NOW YOU CAN DOUBLE YOUR FILTER EFFICIENCY WHILE SAVING TIME, HASSLE AND MONEY, WITH AF SERIES" FILTERS!
---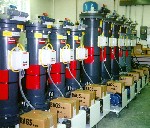 "But we've always done it that way!" Effective filtration is crucial to many processes. The majority of filters on the market today, properly sized and using appropriate micron-size media, provide excellent filtering — when they are cleaned and started Monday morning.
But as the week progresses, turnovers decrease along with filtered solution quality. This is often accompanied by costly process rejects.
The solution is to replace the filter media more often. So why don't most users do just that? The answer is simple. The task of tearing down the filter, removing, disposing and replacing filter media, then reassembling the filter is time-consuming, expensive, messy, unpleasant and often downright dangerous. No one wants the job; no one wants to pay for disposal; and no one wants the process interrupted almost daily.
The costs inherent in traditional filtration are significant:
1. Labor costs for time involved with disassembly and reassembly.
2. Filter media costs: cartridges, paper, bags and more.
3. Hazardous waste disposal of contaminated filter media.
4. Loss of solution in disassembly and in process rejects.
5. Parts replacement due to loss and breakage.
6. Lost productivity from downtime.
7. Lost efficiency prior to cleaning, and loss of solution quality.
Now There's a Better Way! AF Series filters feature backflushable filtration sleeves. Instead of replacing filter media, you simply turn a couple of valves and rotate the handle (and even this can be automated with AF Series options). The filter does the rest. In less than 10 minutes, you are again operating at peak efficiency. No mess, no hazardous material liability, no disposal hassles, insignificant downtime. The charts below dramatically show the efficiency results of fast, easy daily backflushing versus traditional weekly media replacement. Efficiency is doubled!
GLOBAL FILTRATION SYSTEMS BACKFLUSHING FILTER
<![if !vml]>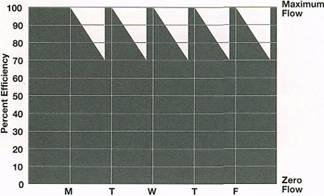 <![endif]>
DISPOSABLE MEDIA FILTER
<![if !vml]>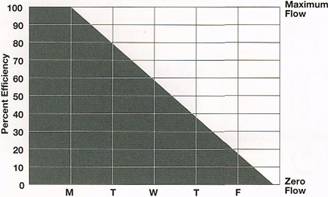 <![endif]>
Permanent AF Series filtration media is available in a range of micron ratings and fabrics to suit a variety of applications.
With a Payback Measured in Months. Here's a typical example of the choice you face with a traditional disposable-media filter system that costs around $3000. Annual operating costs associated just with the disposable media are $2700. This includes 52 media changes, each requiring cartridge and drum disposal and repurchase. A comparable AF Series backflushable filter system costs about $4300. But annual media costs are an incredibly low $172. In this example, your payback for the extra $1300 cost of the AF Series system is just over 6 months, and this doesn't include additional benefits such as the gain in efficiency shown above.
So, over the life of your filter system, AF Series filters literally pay for themselves many times over.
---